As a person who doesn't enjoy coffee, tea is my first choice in the morning. Most of the days I start my day with a cup of tea and I can drink up to 3-4 cups per day. Especially ginger tea and spicy teas in general.
I was walking in Albert Hejin when I saw these beautifully designed teas and they were so familiar. After I analyzed them a bit I remember where I saw them, these teas are designed by Helen Dardik who is a wonderful designer.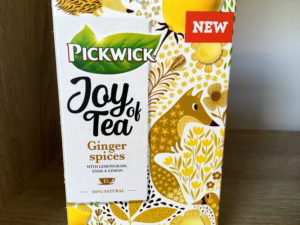 I bought two of them for now: "Ginger spices" and "Green tropical". "Ginger spices" has lemongrass, anise and lemon, it has 15 transparent tea bags. The taste is pretty great, tastes like strong ginger also lemon.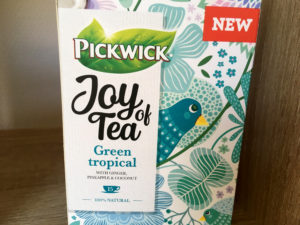 The "Green tropical" smells absolutely like heaven but doesn't taste as great without sugar or honey. It has: ginger, pineapple and coconut. Unfortunately I don't know what else it has, on the back of the box there is no information in English also Pickwick website doesn't have any information.
There are two more versions: "Spicy chai" and "Green jasmin" which I try them too. Overall its a good tea, I payed 1.99 euro for one box. If you are a ginger lover I would totally recommend you the "Ginger spices". Also besides the taste the design of the boxes makes you want to buy them.